For about the past four months I've been helping host Friday night star parties at the Texas Museum of Science and Technology (www.txmost.org), weather permitting. They've become quite popular, with as many as 100 people showing up over the summer. We had a relatively slow night this time, so I was able to capture a few photos.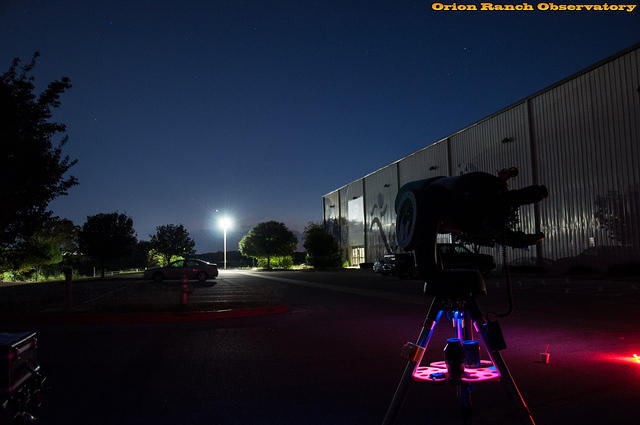 With the smaller crowd, we were able to see quite a number of objects, including Venus, Saturn, Mars, the Hercules Cluster (M13), the Swan Nebula (M17), the Lagoon Nebula (M8) & open cluster, the Ring Nebula (M57), and the Andromeda Galaxy (M31) & M110.
Update: This last Friday (September 30th) we moved to starting an hour earlier (8 PM instead of 9 PM) due to the shorter days as we move into Fall.  We had a much larger crowd this time (probably 50 people or more) and the cooler weather was wonderful after the hot nights we've had all summer.  The few light clouds blowing through weren't a problem.
I arrived even earlier to set up my camera with a timer to catch the images to make this time lapse video.  This video covers two hours from setup to tear-down.
Note the clouds moving south all night and the stars rotating around Polaris in the upper right corner.  In the first part of the video you can also see Venus setting to the left of the street light and right down through the window of the SUV parked there. Be sure to view this full screen for the best result.